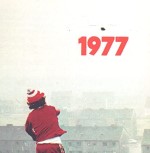 1977 is big and easy. The opening track "Goldfisch" accurately sets the stage. The beats are generic, the melodies simplistic, the compositions predictable. This is the kind of electronic dance music that inevitably finds its way into festivals and blockbuster movies. If that's your thing, I think you'll like this record. Personally, I struggled to get through "Goldfisch" and the record only got worse from there.
There are sonic surprises that demonstrate the quality of Kölsch's ear, but they are the exception, not the rule. They are like random profound statements from an obnoxious drunk: the nuggets of beauty aren't worth enduring a mountain of crap.
1977 did smack me in the face with an important life lesson though: don't dismiss an artist because you hate one of their records. If I heard 1977 first, I never would have listened to fabric Presents Kölsch, and the thought of never hearing that record makes me sad. So keep an open mind the next time you re-encounter an artist (or a person) who you disliked in the past.
Released: June 24, 2013